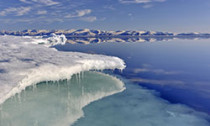 Royal Dutch Shell has delayed plans to drill in Alaska's Arctic waters as it slashes capital spending and awaits the repercussions of a recent appellate court ruling challenging the validity of the lease sale in the Chukchi Sea.
Shell, which issued earnings Thursday and said that it would be cutting global capital spending by about $9 billion, will not drill in Alaska during 2014, despite having made extensive preparations with upgraded rigs and support vessels.
Shell spokesman Curtis Smith blamed "uncertainty raised by the recent Ninth Circuit Court decision that requires the Bureau of Offshore Energy Management to gather and synthesize additional data related to Chukchi Lease Sale 193." He said "the lack of a clear path forward and an associated timeline makes it impossible to commit the resources needed to explore safely in 2014."
But some analysts noted that the company has suffered a series of setbacks around the world that have led to write-downs in the value of projects. They said the delay fits the strategy of the company's new chief executive, Ben van Beurden, who wants to put money into projects with more certain outcomes and shorter time horizons.
"This is a disappointing outcome, but the lack of a clear path forward means that I am not prepared to commit further resources for drilling in Alaska in 2014," van Beurden told analysts. He said the company would look to resolve the legal issues "as quickly as possible" and added that Shell was "reviewing our options there."
"It is the right decision, given their problems so far and their need to reduce capital spending," said Brian Youngberg, senior energy analyst with the investment firm of Edward Jones. "I would say it is a  combination of the legal decision, operational issues and capital concerns. I believe they probably would have delayed it even without the legal decision."
"The decision by Shell's new CEO to suspend Arctic Ocean drilling in 2014 was both sensible and inevitable," said Lois Epstein, Arctic program director for the Wilderness Society. "The Arctic Ocean has proven to be logistically challenging for drilling and mobilization, and a bottomless pit for investment."
Shell did not drill off Alaska last year either.
Jacqueline Savitz, vice president for U.S. oceans at the conservation group Oceana, said, "Shell is finally recognizing what we've been saying all along: that offshore drilling in the Arctic is risky, costly and simply not a good bet from a business perspective."
Shell recently shelved plans to build a multibillion-dollar plant to turn natural gas into diesel fuel. It has spent about $7 billion to acquire shale assets in the United States, but last year wrote down the value of those by about $2 billion. The company has also suffered production cuts in Nigeria because of political unrest there.
For Shell, van Beurden said, "2014 will be a year where we are changing emphasis, to improve our returns and cash flow performance." He said the company would sell about $15 billion of assets this year.
Shell has spent nearly $6 billion buying leases and preparing to drill for oil in the Chukchi and Beaufort Seas, but efforts have been plagued with regulatory delays, controversy over environmental impact, safety concerns, litigation and equipment mishaps. Shell finally sent rigs to drill in the area in 2012, but the company got a late start after struggling to bring its drilling vessels in line with permit requirements. Then it had to deal with unexpected summer ice flows and decided to install only the top of wells in the Chukchi Sea because it was running out of time to drill before open water season ended. Later that year one of its vessels, the Kulluk, was damaged when it ran aground on its way to warmer waters. The company said it will be scrapped.
"It's frustrating to be put in this position, as we felt we were making solid progress towards a 2014 program," said Shell's Smith.
Smith said that the company had improved its Arctic spill containment system, bolstered logistics and management, replaced the damaged Kulluk rig with the semi-submersible Polar Pioneer rig, upgraded capabilities for the Noble Discoverer rig and added two tow vessels, larger offshore supply vessels and a third anchor-handler.
"This is a very, very complex operation," said van Beurden. "It is complex because of obviously the conditions that we face in Alaska. It is complex logistically. It is actually not that complex geologically and from a reservoir perspective, but of course it is also an area that has a lot of other complexities."
Despite the setbacks in Alaska, investors cheered Shell's earnings briefing Thursday, sending shares sharply higher.