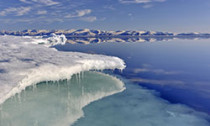 Royal Dutch Shell has delayed plans to drill in Alaska's Arctic waters as it slashes capital spending and awaits the repercussions of a recent appellate court ruling challenging the validity of the lease sale in the Chukchi Sea.
Shell, which issued earnings Thursday and said that it would be cutting global capital spending by about $9 billion, will not drill in Alaska during 2014, despite having made extensive preparations with upgraded rigs and support vessels.
Shell spokesman Curtis Smith blamed "uncertainty raised by the recent Ninth Circuit Court decision that requires the Bureau of Offshore Energy Management to gather and synthesize additional data related to Chukchi Lease Sale 193...
Read More