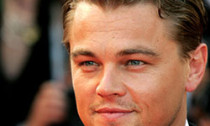 Hollywood star Leonardo DiCaprio has donated a $3 million (£1.8m) grant to the marine conservation charity Oceana, describing the plight of our oceans as "one of the most pressing sustainability crises". The considerable sum – provided by the Leonardo DiCaprio foundation – will go towards efforts to promote sustainable fishing practices, protect vulnerable ocean habitats and threatened marine species such as sharks.
Oceana, the largest international advocacy group to work on behalf of the world's oceans, also campaigns to stop pollution and lobbies for the uptake of renewable energy.
"The foundation and Leo's support for campaigns like our efforts to ban the drift gillnets in California will help Oceana win more protections for countless sharks and other marine animals and for ocean habitats in the Pacific and Arctic – which include some of the most productive ocean places in the world," said Oceana CEO Andy Sharpless.
"The net impact will be a much more abundant and biodiverse ocean that has many millions more sharks and critical and amazing marine animals, wilder and more pristine ocean habitats and oceans that can feed over a billion people – many of them hungry – a healthy seafood meal each day."
DiCaprio is a prolific philanthropist, and has raised money for a number of conservation-related causes before. His eponymous foundation works to protect "Earth's last wild places and fostering a harmonious relationship between humanity and the natural world."
After making this latest donation, DiCaprio said, "Protecting our planet's oceans and the marine species that call it home is one of the most pressing sustainability crises facing humanity today and a moral imperative that we must acknowledge.
"It's my hope that this grant will help Oceana continue the tremendous work that they do daily on behalf of our oceans."
Also working with Oceana, former New York City mayor Michael Bloomberg's philanthropic foundation recently announced a $53m (£32m) grant to combat overfishing.
Many marine ecologists argue that overfishing is the biggest threat to ocean ecosystems, with some species pushed to the brink of extinction. According to the United Nations, over 70% of the world's fisheries are "fully exploited", "over exploited" or "significantly depleted".
This has raised concerns not just for aquatic life, but also for the unsustainability of our food supply. The UN Food and Agriculture Organisation (FAO) estimates than one in five people worldwide depend on fish as their primary source of protein.
Part of Bloomberg's donation will pay investment firm EKO Asset Management Partners to develop a blueprint showing how investors can profit by joining the fight.