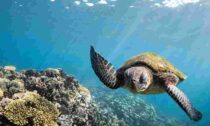 World leaders will meet at the UN in New York later for more talks to save the world's oceans from overexploitation. The UN High Seas Treaty has been through 10 years of negotiations but has yet to be signed. If agreed, it would put 30% of the world's oceans into conservation areas by 2030. Campaigners hope it will protect marine life from overfishing and other human activities.
Two-thirds of the world's oceans are currently considered international waters, which mean all countries have a right to fish, ship and do research there. But only 1.2% of these high seas, as they are referred to, are protected.
This leaves the marine life living there at risk of exploitation from the increasing threats of climate change, overfishing and shipping traffic.
And with ecosystems in the high...
Read More