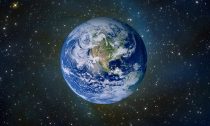 In 1990, as NASA's Voyager I spacecraft traveled beyond Neptune's orbit on the way to becoming the first human-made object ever to leave our solar system, its imaging team implemented an idea originally proposed by astronomer Carl Sagan, turning the camera around for one last look at Earth before entering interstellar space.
The image it beamed back showed Earth as nothing more than a pale blue dot. Sagan observed: "Our planet is a lonely speck in the great enveloping cosmic dark. In our obscurity, in all this vastness, there is no hint that help will come from elsewhere to save us from ourselves."
So, how are we faring as custodians of the blue part of our planet, Earth's oceans? Unfortunately, the answer seems to be: very poorly. In a new study published in One Earth, we aimed ...
Read More