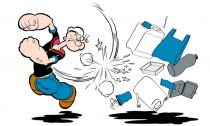 Legendary American cartoon character Popeye the Sailor is teaming up with the French environmental organization, The SeaCleaners, to highlight the importance of conservation and cleaning the world's oceans. Based in Brittany, the organization focuses on raising awareness and long-term, worldwide preservation of the ocean. It also develops solutions to clear the ocean of floating plastic pollution.
A staggering 8 million tonnes of plastic end up in the world's oceans every year. Last year, divers found a plastic KFC bag from the 1970s during an ocean clean-up off the waters off Bulcock Beach in Queensland, Australia and during a dive to the bottom of the Mariana Trench – the deepest point in the ocean – a plastic bag was found.
Popeye himself was created by Elzie Crisler Segar, a cartoon artist from Chester, Illinois. The character first appeared in the daily King Features comic strip called Thimble Theatre in 1929. He started out as a secondary character, but his popularity grew and before long the the comic strip was renamed after him.
Four years later, the character was adapted into a series of animated shorts for Paramount Pictures that continued until 1957. Since then, Popeye has appeared in comic books, television cartoons, video games, countless advertisements and the 1980 live-action movie starring Robin Williams.
His most notable characteristic, aside from his formidable forearms, anchor tattoo and chiseled, seadog-style features, was that he obtained his superhuman strength and indestructibility from eating spinach.
"We plan to use the popular figure of Popeye in our educational and awareness-raising materials, including social media campaigns, educational materials and tools we use in fairs, schools and events," Valérie Amant, Director of Communications for The SeaCleaners, told Forbes.
The partnership is international and is currently set to last over a period of three years. "Our ambition is to act on a global scale. We already have operations in several European countries and plan to develop activities in South-East Asia and the United States in 2020 and 2021," Amant said.
"Popeye being very popular in Asia, we hope he will a great ambassador to help us in our awareness-raising activities in that part of the world. This is key for us as China, Indonesia, the Philippines, Thailand and Vietnam alone discharge more than four million tonnes of plastic into the world's seas each year."
King Features, which itself is part of Hearst, owns the rights to Popeye and has done since the very beginning. The partnership was arranged by its French agent, MJA Licensing, which is also working to secure deals for apparel, accessories, home goods and more. A percentage of profit from sales of these will go toward helping The Seacleaners carry out their very important mission.
"Our goal is to build the Manta, which will be the first ocean-going vessel capable of collecting and mass treating floating ocean plastic waste before it fragments. Basically we offer to clean up the ocean," Amant said.
In addition to its actual collection activities, this revolutionary boat also aims to be a demonstration centre and a showcase for cutting-edge technologies in plastic waste treatment and renewable energy. The Manta will carry out its first collection missions in 2023.