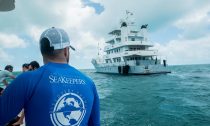 It may be a magnet for ocean-going excess, but the Monaco Yacht Show is becoming an increasingly precious jewel in the fight to save our seas. The luxury shop window for mega yachts and boating bling opens with a glitzy gala dinner and charity auction, which raised more than $27 million for marine conservation projects carried out by the Prince Albert II of Monaco Foundation.
The A-list guests, including Katy Perry, Orlando Bloom, Adrien Brody and a host of Victoria's Secret models dressed in dazzling gowns and diamonds, bid on lots ranging from the world's first luxury electric powerboat to horseback riding with Madonna. On online auction will remain open until December.
But why are the super rich so keen to save the seas?
'The ocean is their playground'
Environmentalist and explorer Emil...
Read More