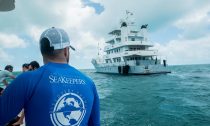 It may be a magnet for ocean-going excess, but the Monaco Yacht Show is becoming an increasingly precious jewel in the fight to save our seas. The luxury shop window for mega yachts and boating bling opens with a glitzy gala dinner and charity auction, which raised more than $27 million for marine conservation projects carried out by the Prince Albert II of Monaco Foundation.
The A-list guests, including Katy Perry, Orlando Bloom, Adrien Brody and a host of Victoria's Secret models dressed in dazzling gowns and diamonds, bid on lots ranging from the world's first luxury electric powerboat to horseback riding with Madonna. On online auction will remain open until December.
But why are the super rich so keen to save the seas?
'The ocean is their playground'
Environmentalist and explorer Emily Penn, who acts as spokesperson for the Y.CO Clearwater campaign that encourages yacht owners to reduce waste and emissions, suggests it comes from their idea of holiday fun.
"The ocean is their playground," she tells CNN. "Without a healthy ocean, the whole industry of yachting doesn't function in the same way."
Penn adds that for regular sea travelers the damage is impossible to miss. "I travel a lot," she says. "And going back to the same places a year later and finding that the reefs are almost unrecognizable to how they were, because they are bleached and all the life has gone…that's been a huge wake-up call for people."
Swiss pharmaceutical billionaire Ernesto Bertarelli and his wife Kirsty, who spend their holidays on 318ft (97m) superyacht Vava 2, shared the same experience. The couple's time on the water made them acutely aware of the threats faced by the marine environment.
Compelled to act, they set up the Bertarelli Foundation, which has provided significant funding for the creation of marine reserves in Belize and the Indian Ocean.
The same goes for Wendy Schmidt, wife of Eric — Google's former executive chairman who has an estimated worth of $14.7 billion. The keen sailor set up 11th Hour Racing as part of the Schmidt family foundation, which works with the maritime community to promote sustainability and protect the ocean.
Such high-profile examples have helped to spread awareness among the sailing community and spurred on yacht owners to act. And some, instead of donating money, are donating their yachts to help the scientific cause.
Science on a superyacht
The Bertarellis, for instance, offered marine scientists the use of Vava 2 for a survey of sharks and coral reefs in the Indian Ocean.
One organisation facilitating this is the International Seakeepers Society, a non-profit based in Florida, which links yacht owners with scientists, providing a platform for marine research without the costs of chartering a vessel.
International Seakeepers Society uses Yacht Marcato as a platform to conduct a shark-tagging expedition in the Bahamas.
Among its fleet is Archimedes, a 222ft (68m) superyacht belonging to billionaire mathematician James Simons. The yacht, valued at $100m, was used by scientists for a shark-tagging expedition off the coast of Antigua.
"Ninety percent of a scientist's small budget will go towards chartering an expedition vessel," says Seakeeper's yacht specialist Tony Gilbert. "We're allowing them to save all that money and put it to a better use, such as paying lab assistants and the actual research itself."
Scientist Ari Friedlaender, who conducted a whale-tagging expedition from motor yacht E Cruz, credits his team's successful research to Seakeepers and boat owner Larry Moreas.
"Larry's boat gave us double the amount of assets on the water and the ability to collect twice as much data as we would have collected using our own single boat," says Friedlaender. "Without this support we would not have been able to achieve our scientific goals."
Some billionaires have even started to design vessels specifically for marine conservation expeditions, rather than lending out their own leisure yachts.
For instance American billionaire Ray Dalio, whose OceanX initiative has designed 279ft (85m) exploration yacht Alucia 2 , which is fitted with research labs, submarines, helicopters and a media production center.
Or Norwegian philanthropist Kjell Inge Røkke, whose rivaling REV project aims to launch the world's largest research expedition vessel by 2020.
However, while Penn appreciates the enthusiasm and action from the yachting community, she urges yacht owners to make an impact closer to home — by reducing waste and emissions on their own boats.
"On a boat you don't have a barrier between you and the ocean, and pretty much anything you use is going to go straight overboard, so it's really important that everything is bio-degradable and natural," she says.
Green technology
The yachting community's increased environmental awareness is also shaping the wider industry, as companies compete to design the most eco-friendly yacht technology.
One company, Torqeedo, has developed electric engines that can fit an 80ft catamaran, while Daedalus is using cutting-edge technology to design high-end zero emission sailing boats. Swiss company Solar Impact recently revealed plans for a slick solar-powered yacht with the ability to cruise the entire world without refueling.
"The new generation of clients are more aware of green issues," says Johan Pizzardini, communications and media manager for the Monaco Yacht Show. "So designers and equipment suppliers are searching for solutions to reduce pollution."
As the demand for green yachts is booming, this changing tide can only mean good things for marine conservation.