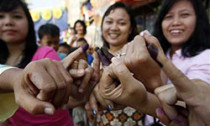 Six countries of the World's Coral Reef Triangle, Indonesia, Malaysia, the Philippines, Papua New Guinea, Solomon Islands, and East Timor, are agreed to encourage the involvement of women in protecting and conserving the world's marine natural resources.
This was declared in the Women Leaders Forum held in Grand Kawanua Center (GKICC), in Manado, on May 13.

The Secretary-General of The Ministry of Marine Affairs and Fisheries, Sjarief Widjaja, who acts as the Chairman of Interim Regional Secretariat (IRS) of CTI-CFF, stated that women are necessary to take part in the marine conservation initiatives, particularly in the marine and coastal resource conservation, post-capture fish handling, and the trade.

Sjarief continued that the Forum has set a number of year-round activities, including the study visits, the leader forums, and the activity aiming to reach and influence the decision-making women in the governments.

Sjarief said, "the mission is to build capacity of women throughout the Coral Reef Triangle's countries, so that the women leaders can play significant roles in protecting and conserving the marine and coastal resource."

The Executive Director of Coral Triangle Center, Rili Djohani, who co-pioneered the women leadership program in the Coral Reef Triangle, remarked, "The women leaders, particularly in the society level, has always been actively participating in the marine and coastal resource protection. Somehow, they are less-rewarded and less-recognized. Therefore, by initiating such a forum, we expect to inspire and encourage women be more involved in the sustainable management, conservation, utilization of the natural resource."

The CTI-CFF Women Leaders Forum is organized by CTI-CFF IRS and supported by the Ministry of Marine Affairs and Fisheries of Indonesia, National Coordinating Committee (NCC) Indonesia, USAID, the Coral Triangle Center, US Department of Interior, The Nature Conservancy, WWF, and Asian Development Bank. The Forum is concurrently held with Special Senior Officials Meeting of CTI-CFF and the 5th CTI-CFF ministerial meeting as well as the World Coral Reefs Conference (WCRC).

During the Forum, six Coral Reef Triangle's countries' women leaders received awards and grants to support and bolster their activities for the society back in their countries. Those women leaders are Martha Lotang from Indonesia, Francesca Ngo Winfield from malaysia, Piwen Langarap from Papua New Guinea, Alma Bool from the Philippines, Moira Dasipio from Solomon Islands, and Robela Mendes from East Timor.