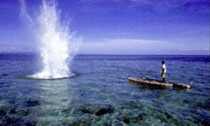 Tanzanian authorities are in the process of enacting laws that will mete out heavy penalties for fishermen engaged in dynamite fishing which is now rampant in the east African nation, an official said on Friday. Fatma Sobo, the Assistant Director of Fisheries Resource Development, said dynamite fishing in Tanzania's Indian Ocean Coastal line was out of control.
"Controlling dynamite fishing is difficult because of the involvement of politicians," Sobo told a two-day workshop for key actors in the marine fisheries sector in Tanzania gathered to identify challenges facing the tuna fishery sub-sector and seek common solutions.
She said the government has formed a task force with members the Tanzania People's Defence Forces (TPDF), the Ministry of Home Affairs and the government's environment department to find out how the fishing malpractice could be eliminated.
Sobo said in 1997/98 dynamite fishing in Tanzania was almost eliminated after the involvement of TPDF. Mwanaidi Mlolwa, a senior official with the Ministry of Livestock and Fisheries Development, said the process to review fisheries laws was intended to make dynamite fishing a treasonable offence.
"The current laws are not deterrent enough," she said. According to the Fisheries Act of 2003, any person who uses explosives to kill fish or destroy aquatic flora shall be liable to imprisonment for a term not less than five years and not exceeding 10 years.
In a recent world map of the Global Reefs at Risk initiative, Tanzania is the only African country where dynamite fishing occurs.
Dynamite destroys coral reefs, which is contrary to what people normally think, it's not a series of rocks, but it's a congregation of living animals which create the corals (rocks) as their homes.
A survey conducted in Tanga Region in the 1990s showed that 10 per cent of coral reefs were damaged beyond recovery, while 70 percent had significant damage but could recover if protected.