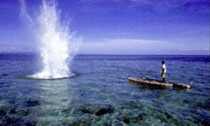 Tanzanian authorities are in the process of enacting laws that will mete out heavy penalties for fishermen engaged in dynamite fishing which is now rampant in the east African nation, an official said on Friday. Fatma Sobo, the Assistant Director of Fisheries Resource Development, said dynamite fishing in Tanzania's Indian Ocean Coastal line was out of control.
"Controlling dynamite fishing is difficult because of the involvement of politicians," Sobo told a two-day workshop for key actors in the marine fisheries sector in Tanzania gathered to identify challenges facing the tuna fishery sub-sector and seek common solutions.
She said the government has formed a task force with members the Tanzania People's Defence Forces (TPDF), the Ministry of Home Affairs and the government's environme...
Read More