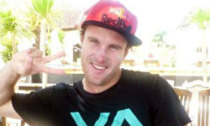 Great Whites are killed after surfer loses arm and hand. The carcasses of two great white sharks caught off the coast of Esperance, in southern Western Australia, will be cut open after a surfer was attacked.
Sean Pollard, 23, lost part of an arm and his other hand in the attack at Kelpids Beach, Wylie Bay, on Thursday morning. He is in a stable condition in Royal Perth Hospital.
Two great white sharks were caught and killed after WA's Department of Fisheries deployed drum lines off the beach following the incident.
The sharks have been taken to Perth by truck for research purposes, and Mr Pollard's surfboard will also be forensically examined by shark experts.
However, the Department of Fisheries conceded it might not be possible to confirm whether the sharks killed were involved in the attack.
"Even upon examination it may not be possible to confirm that either shark was involved in the incident. It is common for sharks to disgorge stomach contents," a statement from the department said.
Results of the tests on the sharks were not expected until next week.
Premier Colin Barnett has defended the decision to kill the sharks, denying it was a knee-jerk reaction.
"A young man suffered severe injuries and is very lucky to live, that's hardly a knee-jerk reaction," he said.
"It's a serious issue and people going to the beach should feel as safe as possible.
"I think Perth beaches are as safe as we can reasonably make them, but the South West and the southern coastline is a different matter."
He said setting the baited drum lines had been necessary.
"The shark, while it was killed, it was done in a humane way," Mr Barnett said.
"Where there is a clear threat to public safety, we'll act to destroy that shark.
"It was necessary; it was school holiday time, there were people visiting that beach and camping along the beach."