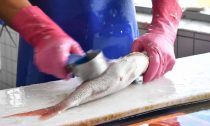 Endangered fish species are being routinely sold to Australian and international consumers thanks to a little-known feature of environmental laws that allows for the species to be commercially fished. Under Australian environmental laws, marine species that are listed as vulnerable, endangered or critically endangered are classified as "no take" species, meaning they cannot be sold or exported.
But species such as blue warehou, eastern gemfish and scalloped hammerhead, which are eligible for listing, are instead categorised as "conservation dependent", meaning they can be caught in Australian waters and sold in shops, fish markets and restaurants, or exported, despite being considered threatened.
Marine conservationists have long argued for the removal of this category from Austra...
Read More