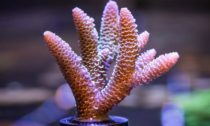 An amazing project is unfolding in the remote Queensland town of Port Douglas which showcases the best science has to offer our society. They're building a new ark for coral. And there isn't a moment to lose. Great Barrier Reef Legacy, headquartered in Port Douglas, is working with Traditional Owners, industry and corporate partners, scientific collaborators, government organizations, and tourism operators to establish the world's first Living Coral Biobank.
Like the mythical Noah's ark, this project aims to conserve the genetic diversity of hard coral species and catalogue, collect, and store living fragments, tissue, and genetic samples from 400 coral species on the Great Barrier Reef (GBR), and 400 coral species from all over the world.
Found worldwide, coral reefs are kn...
Read More