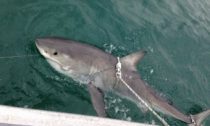 New data has revealed more than 500 sharks have been caught off Queensland as a result of a controversial shark control program. The majority of sharks were found dead and many others were euthanased over a 12-month period last year through the use of drumlines and nets.
Conservation groups say the Queensland Government program, which was established more than 50 years ago, needs to be abolished.
Australian Marine Conservation Society (AMCS) senior marine campaigner Tooni Mahto called the practice "inhumane and archaic".
"Under the Queensland control program there are 26 species of shark which are listed as being a threat to humans. That's totally nonsensical," she said.
In New South Wales, the State Government is trialling the use of "smart" drum lines, which alert authorities when an an...
Read More