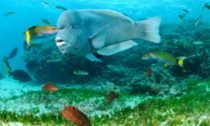 The world's southernmost coral reefs have fallen victim to climate change. According to reports, the Lord Howe Island Marine Park is experiencing severe coral bleaching.
In some areas, about 90 percent of reefs have been damaged. Scientists said that this is the worst coral bleaching that the UNESCO World Heritage Site has experienced in recent memory.
Warm Summer Water Causes Widespread Coral Bleaching
Researchers from Newcastle University, James Cook University, and the National Oceanic and Atmospheric Administration have surveyed the area for the past two weeks. They revealed that the bleaching occurred over the past summer, peaking in March, due to sustained heatwaves and warm ocean water temperature.
They also reported that the bleaching is at its most severe in shallow waters near the shore.
"It's quite variable but where it's severe it is actually quite severe," said Bill Leggat, a coral biologist, in an interview with The Guardian. "Some of the sites are looking at 80-90% bleaching going very close inshore."
The level of damage varies. Other areas show 30 to 50 percent bleaching while some only have 5 percent of the reefs affected.
While there have been a few other coral bleaching events reported in Lord Howe Island in the past, the scientists said that it has been years since the last one occurred. Moreover, this new coral bleaching event is the most severe that they have seen.
They added that the damage seems to be progressing. The team said that they will return in April to survey the coral reefs and see if the bleaching event caused coral mortality.
The Negative Impact Of Global Warming
The 145,000-hectare Lord Howe Island Marine Park is the closest coral reef to a pole and is home to many species of marine animals not found anywhere else. The recent bleaching in the area is proof global warming is affecting coral reefs around the world, reaching even regions that normally do not see similar events.
"Coral bleaching is the greatest threat to the sustainability of coral reefs worldwide and is now clearly one of the greatest challenges we face in responding to the impact of global climate change," the researchers wrote in the report published in The Conversation.
The Great Barrier Reef, also a UNESCO World Heritage Site, has been experiencing severe coral bleaching. Since 2016, half of the reefs in the area has been bleached to death.