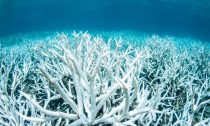 Australia's Great Barrier Reef has lost more than half of its corals since 1995 due to warmer seas driven by climate change, a study has found. Scientists found all types of corals had suffered a decline across the world's largest reef system. The steepest falls came after mass bleaching events in 2016 and 2017. More mass bleaching occurred this year. 
"There is no time to lose – we must sharply decrease greenhouse gas emissions ASAP," the researchers said.
The study, published in the journal Proceedings of the Royal Society B, was conducted by marine scientists at the ARC Centre of Excellence for Coral Reef Studies in Queensland.
Scientists assessed the health and size of coral colonies across the reef from 1995 to 2017.
They found populations had dropped by more than 50% in...
Read More