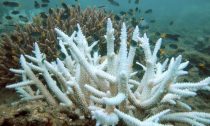 Repeated coral bleaching events owing to global warming are having lasting effects on reef fish communities, including changes in biodiversity and permanent shifts in the range of fish species, according to a new long-term study published on 18 June in Global Change Biology (1). Future reef fish communities will have fewer species, dominated by herbivores and invertebrate feeding fish.
The international team of researchers led by Dr James Robinson of Lancaster University carried out six surveys of 21 Seychelles reef sites from 1994 to 2017. They tracked the recovery of reefs over the 16-year period before the next major bleaching event in 2016 and discovered permanent shifts in the range of fish species cohabiting the coral reef sites.
The authors then used statistical models...
Read More