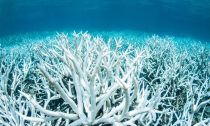 The world's coral reefs could face mass bleaching and erosion within the next few decades, according to an international team of scientists including those from Australia. Their findings, published this week in the scientific journal PNAS, have particular significance for Australia, which oversees the Great Barrier Reef (GBR), the world's largest coral reef ecosystem and an enormously important drawcard for the nation's tourism industry.
The scientists, including marine plant ecologist Guillermo Diaz-Pulido from the Griffith University in the Australian state of Queensland, noted in a related article in the Conversation that the GBR contributes about 6.4 billion Australian dollars (about 5 billion U.S. dollars) to the national economy.
Their study, based on the findings from 183 ree...
Read More