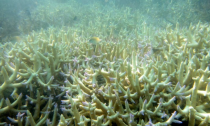 Record-breaking sea surface temperatures in 2016 bleached up to 80 per cent of the Kimberley's super-tough coral and nearly 30 per cent of coral off Rottnest Island, scientists say. Despite being home to some of the world's most stress-resistant coral, in-shore Kimberley reefs, were devastated by the most severe global bleaching event ever recorded, a survey of the entire WA coastline has found.
The researchers from UWA, the ARC Centre of Excellence and WA Marine Science Institution found Ningaloo Reef, which is still recovering from major bleaching in 2010-11, was not affected.
The 2016 global bleaching event was the third and longest on record and the Kimberley region was the hardest hit.
Between March and May 2016, the world's oceans were 0...
Read More