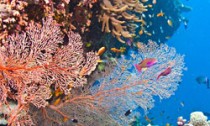 Australian authorities have raised the level of threat due to coral bleaching in theGreat Barrier Reef after an increased loss of corals was detected north of the reef, its most unpolluted zone, the media reported on Tuesday.
The Great Barrier Reef, declared a Heritage Site by Unesco, extends up to 2,300 km in northeast Australia and is the world's largest coral system.
According to GBRMPA, the regions most affected by the bleaching and that has aggravated in the last two weeks, is located close to the Lizard Island.
Coral bleaching, a process in which corals lose their colour due to environmental stress, is a consequence of the rise in the superficial temperature of the sea to 33 degrees Celsius in February.
Recent data from NASA show the average temperature of the planet in February was 1.35 degrees more than its equivalent between 1951 and 1980.
During the austral summer, water temperature was 2.5 degrees above average and it is expected to maintain the heat in March too, leading to fears of further deterioration in the health of corals at the end of this month.
"Coral biologists have been talking for decades about the need to protect coral reefs by reducing carbon emissions, so this is a bit of a wake-up call for Australia and other countries to get on with that job," Terry Hughes of the National Coral Bleaching Taskforce told ABC news.
Corals have a special symbiotic relationship with a microscopic algae called zooxanthallae, which provide them with oxygen and a portion of the organic compounds produced through photosynthesis.
When subjected to environmental stress, many coral reefs expel their zooxanthallae, and coral polyps are left without pigmentation appearing almost transparent, a phenomenon known as bleaching.
The health of the Great Barrier Reef, home to 400 types of coral, 1,500 species of fish and 4,000 types of molluscs, began deteriorating in the 1990s owing to warming of the sea water and an increase in its acidity through the increased presence of carbon dioxide in the atmosphere.