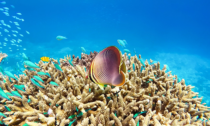 In what seems like excellent news, coral cover in parts of the Great Barrier Reef is at a record high, according to new data from the Australian Institute of Marine Science. But this doesn't necessarily mean our beloved reef is in good health. In the north of the reef, coral cover usually fluctuates between 20% and 30%. Currently, it's at 36%, the highest level recorded since monitoring began more than three decades ago.
This level of coral cover comes hot off the back of a disturbing decade that saw the reef endure six mass coral bleaching events, four severe tropical cyclones, active outbreaks of crown-of-thorns starfish, and water quality impacts following floods. So what's going on?
High coral cover findings can be deceptive because they can result from only a few dominant...
Read More