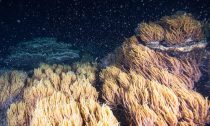 The Great Barrier Reef exploded with life over the weekend thanks to the annual mass coral spawning and early reports suggest it was the biggest event in recent years. The coral spawning, which typically occurs on the Reef in the week following the November full moon, sees coral polyps simultaneously release egg and sperm bundles into the ocean for fertilisation giving rise to millions of next-generation coral babies. Reef Bio Research Manager at Quicksilver Port Douglas, Russel Hore, said coral spawning is a significant event for the reef.
"It is vitally important that it occurs to get genetic diversity across the corals," he said.
"It also allows for species distribution around the reef, because corals can't walk around so this is the best way different corals can move around th...
Read More