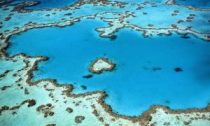 The conservation status for Australia's Great Barrier Reef has declined from "significant concern" to "critical" due to increasing impacts associated with climate change, a new report has found.
The damage to the reef is a result of ocean warming, acidification and extreme weather, which has resulted in coral bleaching, according to the International Union for Conservation of Nature's (IUCN) 2020 World Heritage Outlook report, which tracks whether the conservation of the world's 252 natural World Heritage sites is sufficient to protect them in the long term. The process of coral bleaching occurs when water is too warm and the algae the corals expel from their tissues cause them to turn completely white.
The decline of the coral has also resulted in decreasing populations of cert...
Read More