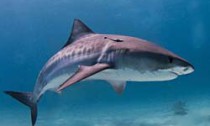 Humans have long been sharks' greatest danger, but a new study reveals a surprisingly potent threat against them — background music. University of California, San Diego visiting assistant researcher Andrew Nosal (UC San Diego, Ph.D. '13) and Harvard marketing professor Elizabeth Keenan (UC San Diego, M.A. '08, Ph.D. '15) surveyed participants' reactions to three videos of sharks swimming — not feeding, just swimming.
The only difference between the three videos was the background music.
One clip featured an ominous soundtrack, familiar to viewers of blockbusters and nature documentaries alike; another was accompanied by uplifting strings; and a third by silence. An independent music expert blind to the objectives of the study was even brought in to evaluate the musical selections for their emotional content.
What the scientists found was that music does alter our perception of these undersea creatures — viewers of the ominous music clip rated sharks more negatively than those who watched them swim along with inspirational backing or none at all.
How music marginalizes sharks
This is a problem because while we may secretly thrill to being scared by sharks, it's a dynamic that could affect our ability to enjoy them at all in the future.
"We know from prior research that conservation progress for sharks is sluggish compared to marine mammals and sea turtles, for instance, and that this slow response may be due in part to the societal marginalization of sharks," says study co-author Elizabeth Keenan.
That marginalization isn't limited to the fictional realm, either.
"Nature documentaries are often regarded as objective and authoritative sources of information and for some people may be the primary source of information about sharks," Andrew Nosal explains. "While the content of documentaries featuring sharks is the topic of another discussion, we focused solely on the background music accompanying footage of sharks swimming harmlessly."
As the results of the study indicate, it may be hard to perceive that sharks are swimming harmlessly if the music prompts otherwise.
Changing perception
"Documentaries, news packages, and some exhibits featuring sharks (e.g., at Sea World's Shark Encounter) continue to employ ominous background music to heighten the entertainment aspect of the product," says Nosal. Even BBC's highly regarded "Blue Planet" series dials up sounds of dread when sharks float on screen.
"From a marketing perspective, any group whose goal is to promote sharks in a positive way should accompany video footage of sharks (in public service announcements, commercials, etc.) with uplifting or otherwise upbeat music," Nosal adds, pointing to work by the group MarViva and "Sharkwater," an award-winning conservationist film by Rob Stewart.
Elizabeth Keenan's experiences at the Aquarium of the Pacific in Long Beach, CA, where she was interim director of education, led her to explore this line of research. "At the aquarium it was clear that education alone was not enough to encourage individuals to become more environmentally-friendly."
This drove her to pursue a master's in science in marine biodiversity and conservation at Scripps "in order to understand what motivates individuals to make decisions that are better for the environment and society as a whole," followed by a doctoral degree in marketing at UC San Diego's Rady School of Management.
That some animals, like snakes or sharks, are perceived as less "charismatic," as Keenan puts it, may make obtaining public support for their preservation even more difficult.
Nosal quotes the Senegalese conservationist Baba Dioum: "In the end we will conserve only what we love."
In the case of sharks, this insight may be essential to their survival.
Source