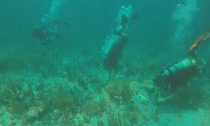 The beauty of south Florida's coastline isn't just skin-deep. Below the water lies a crucial habitat of coral, home to hundreds of species of marine plants and animals. But the beauty of the only tropical reef system in the continental U.S. is vanishing.
"Over the past 30 to 40 years, we've seen a drastic decline in coral cover… and it's mostly been due to climate change," said Stephanie Schopmeyer, a University of Miami marine biologist who's working to save the species.
In just one decade, the reef lost nearly half its coral cover. The system stretches more than 300 miles along Florida's coast.
CBS News correspondent Manuel Bojorquez and his team set out with Schopmeyer to see the Rescue a Reef program in action. Scientists who are certified divers are replanting parts of the reef with the help of "citizen scientists."

"Citizen scientists are members of our local community that are interested in participating and contributing to any type of science program and in our case it's coral restoration," Schopmeyer said. She said there's a waiting list.
The first task is to collect recently grown coral from so-called "trees" the group has installed just off Key Biscayne. Once they bring them up, the divers are taught how to secure the harvested coral onto the ocean floor. Then it's time to find a spot to replant them.
Doing that is like underwater gardening – putting down stakes and securing the new coral – all while trying not to drift into other replanted coral that's already growing.

But it's on dry land where coral biologists like Ross Cunning work to ensure corals survive challenging conditions.
"We are studying the stress resistance of corals," Cunning said. "We're trying to identify which corals are able to withstand warming temperatures."
Aside from saving the ecosystem, Cunning says billions of dollars are at stake – from fishing to tourism – if the reef does not survive. It also helps protect against beach erosion and another major threat to Florida: hurricanes.

"Coral reefs act as a natural barrier, and when hurricanes approach… they act as a first line of defense against storm surge," Cunning said.
Rescue a Reef is slowly trying to rebuild that line of defense.

During Jessica Glenn's ninth dive, she planted about six corals.
"I live here. I'm a Floridian, so I want to save it," Glenn said.
Meanwhile, it was Natalie Mertel's first dive.

"I've been wanting to do this for over a year. And it finally worked out today," Mertel said, adding, "and without the ocean, well – there's no life."
Rescue a Reef is not the only program working to replant the coral reef. Schopmeyer said there is a network of divers and scientists that have planted tens of thousands of corals every year, but they have a long way to go.