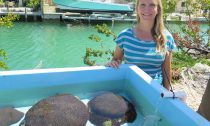 At Mote Marine Lab's Center for Coral Reef Research and Restoration in the Florida Keys, Joey Mandara is like a baby sitter. But instead of children he tends to thousands of baby corals, growing in large, shallow tanks called raceways. Mote has been doing this work for five years, raising corals from embryos into adult colonies, then planting them on Florida's reefs. Now, the emergence of a new, debilitating coral disease makes his work more important than ever.
In one raceway, Mandara says fragments of brain coral have grown quickly in this controlled environment.
"The brain coral were eight fragments," he says. "And over time, they've grown out and have now fused into each other, becoming one coral that will hopefully over time become sexually mature."
Mote lab's science director Erinn...
Read More