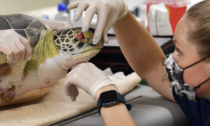 Sea turtles along the Florida coast from Jacksonville to Brevard are falling sick and wildlife experts are working hard to find out why. The turtles – primarily Green sea turtles – have been coming ashore from the ocean and lagoons in increasing numbers over the past few weeks. They're being taken to the Brevard Zoo and to specialty turtle rehab centers around Florida, according to Shanon Gann with the Brevard Zoo Sea Turtle Healing Center. 
"There's not one specific ailment. Most of them are stranding from the ocean and presenting with lethargy and low glucose," she said Wednesday. "It's not boat strikes or a parasite."
Dozens of sea turtles too weak to swim have been rescued from just south of Jacksonville to Brevard County over the past few weeks, she said.
Providing en...
Read More