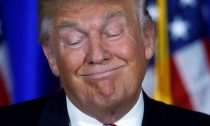 Top Democratic Party leaders, environmentalists and fishermen Wednesday gathered here in a show of united opposition to President Donald Trump's order to review and potentially open up federal marine sanctuaries off the California coast to new oil and gas drilling.
Legislators, including House Democratic leader Nancy Pelosi of San Francisco, Reps. Jared Huffman, D-San Rafael, and Rep. Jackie Speier, D-San Mateo, urged staunch resistance to any rollback of protections off the coast, which they said would threaten fisheries, recreation and tourism industries.
"This president wants to keep monuments to Confederate leaders and their rebellion against the United States, but he wants to shut down public national monuments that protect uniquely American landscapes and oceans for future generations," Huffman said in front a of a standing-room only crowd at the Bay Model visitor's center.
President Trump in April ordered a review of the expansions to 11 sanctuaries and monuments, including four that surround the Channel Islands and cover the California coast from San Luis Obispo County to Point Arena in Mendocino County, shielding 12,300 square -miles from oil drilling and other energy extraction.
Pelosi called the marine sanctuaries, created through legislation and executive orders stretching back decades, an "irreplaceable treasure," and equated their defense to a moral and practical stand against Trump's "America First" offshore energy policy. It calls for greater U.S. fossil fuel production through wider leasing of marine drilling tracts, a move Trump pledged would create thousands of high-paying jobs and make the nation more secure.
Pelosi assailed the policy as a "reckless drilling agenda," touting clean oceans as "the lifeblood of the planet."
Whether Trump administration listens or not, she said "we want to make sure the American people hear your message through the members of Congress."
Meanwhile, the Department of Interior faces a deadline today to announce a decision on whether to downsize or eliminate 27 other national monuments — including Berryessa Snow Mountain, which covers covering parts of Napa, Mendocino and Lake counties.
Conservation, tribal and outdoor recreation groups have fought against any rollback of protections, but some proponents for shrinking or undoing the national monuments say past presidents have misused a century-old law to create preserves that are too large, forestalling energy development, grazing, mining and other uses.
In addition to sanctuaries and coastal monuments under review off California, other affected marine areas stretch from the Atlantic Coast to the Great Lakes, Hawaii and Samoa.
Trump's order established a national policy to "encourage energy exploration and production" in offshore waters "to maintain the nation's position as a global energy leader."
Speakers at Wednesday's forum said even if California's offshore oil reserves are exploited it would not affect the cost of a gallon of gasoline at the pump.
The Department of Commerce has received more than 100,000 comments on the president's order. Public support for marine sanctuaries and monuments was nearly unanimous in a recent sampling of letters submitted to the federal government, according to a review by an ocean conservation group.
More than 99 percent of the people who submitted comments on Trump's order advocated leaving the sanctuaries in place, the Marine Conservation Institute said.
The four California sanctuaries protect places such as the Monterey Canyon, Farallon Islands and Cordell Bank, a biologically rich sea mount off the Marin coast.