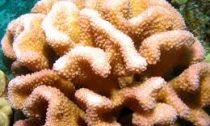 The Center for Biological Diversity sued the Trump administration Thursday for failing to protect cauliflower coral around the Hawaiian Islands, the agency said in a news release. The bushy, shallow-water species has been devastated by ocean warming triggered by human-caused climate change.
A strong marine heat wave is now hitting Hawaii's coral reefs hard, and researchers predict massive coral bleaching and death, the released stated. Cauliflower coral coverage around Hawaii declined by 36% from 1999-2012, and current conditions are expected to worsen that decline.
"Cauliflower coral is like the canary in the coal mine of our warming oceans. Marine life around Hawaii will suffer without bold actions to protect coral reefs," said Maxx Phillips, the center's Hawaii director. "Hawaii's coral reefs are dying and they need our help."
The lawsuit, filed in federal court in Hawaii, challenges the National Marine Fisheries Service's failure to act on a petition to protect cauliflower coral under the Endangered Species Act. The Fisheries Service said last year listing might be warranted, but failed to follow up, prompting the center to issue a notice letter in May.
The National Oceanic and Atmospheric Administration said Thursday it can't comment on pending litigation.
Cauliflower corals are a major reef-building coral, protecting Hawaii's shorelines and providing habitat for fish and crabs.
While protecting corals ultimately requires reducing global temperature increases, cauliflower coral is also threatened by land-based pollution, sedimentation and physical disturbances by humans. An Endangered Species Act listing could help minimize and mitigate those threats, the suit says. Federally permitted projects with significant greenhouse gas emissions also should mitigate impacts.
An earlier coral listing petition, filed by the center in 2006, resulted in the protection of elkhorn and staghorn corals, which became the first species ever protected under the act because of the threat of global warming.
"Cauliflower coral is called ko'a in Hawaiian," Phillips said. "We want to protect it, but we need federal help. Healthy coral reefs are the foundation of healthy oceans."