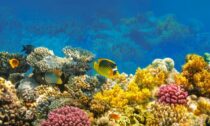 On the sidelines of the UN Oceans Conference, held from 27 June to 1 July 2022 in Lisbon, Portugal, the governments of Portugal and Kenya co-organised a forum on investment in the sustainable blue economy. One of the outcomes of the initiative was an increase in the capital of the Global Coral Reef Fund (GCRF). With two new commitments totalling US$18 million, the GFCR's capital now stands at US$170 million.
The larger of the two contributions is from Builders Vision, an impact platform offering philanthropic tools and versatile investments to individuals and organisations committed to sustainable development. Builders Vision is investing US$5-10 million in the RFCG's equity fund, as well as contributing US$5 million to the RFCG's catalytic grant fund.
Bloomberg Philanthropies will join the GFCR coalition with an investment of US$8 million. Bloomberg Philanthropies works to improve the lives of millions of people in 941 cities and 173 countries. The philanthropic organisation encompasses all of the donations of its founder, businessman Michael Rubens Bloomberg, including those of his company, Bloomberg LP, which is a US-based financial group specialising in services to financial market professionals and economic and financial information.
Coral reefs threatened by global warming
The GFCR coalition welcomes Builders Vision and Bloomberg Philanthropies in a context marked by the disappearance of reef ecosystems around the world, due to climate change, storms, pollution and overfishing. In a study presented in December 2021 on the sidelines of the 26th United Nations Climate Change Conference (COP26), researchers indicate that coral reefs only live and thrive at temperatures between 25°C and 40°C. And if the temperature exceeds this limit, the reefs bleach and eventually die.