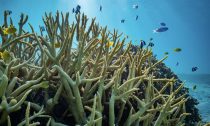 An interview with Richard Vevers, Chief Executive Officer of The Ocean Agency
In partnership with the United Nations Environment Programme, the Ocean Agency has launched Glowing Glowing Gone, a creative awareness campaign that draws attention to coral fluorescence due to climate change.
Coral fluorescence, or "glowing" coral, is a last line of defense before coral dies and bleaches. The Ocean Agency worked with Pantone and Adobe to turn the warning colours of glowing coral into three official Pantone colours, to inspire action that everyone can use.
Through Glowing Glowing Gone, The Ocean Agency hopes to garner public support to inspire policy and funding to conserve coral reefs and save an ecosystem on which our entire planet depends.
Richard Vevers, Chief Executive Officer of The Oce...
Read More