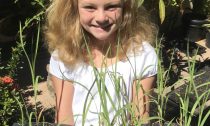 A 10-year-old from Maui converted her backyard into a native plant nursery to help save coral reefs. Abby Rogers, a volunteer with the nonprofit Coral Reef Alliance, has grown over 900 native plants in the past few months to trap sediment at Wahikuli, which runs into the ocean and smothers coral reefs.
Typically, CORAL purchases the plants and hosts volunteer planting days at restoration sites.
However, due to COVID-19 restrictions, volunteers were needed to grow the plants at home.
"I really wanted to help the environment, but all I could ever think of was using a straw or bringing my own bags to the store," said Rogers.
"My mom read about the CORAL project in a newspaper article and suggested it to me."
Rogers is one of 100 volunteers who signed up to grow 25,000 ...
Read More