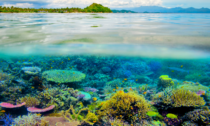 Climate change presents some detrimental obstacles to fragile coral reefs such as heat-related bleaching, but new research shows that some coral communities are evolving to become more heat tolerant as ocean temperatures rise. A new study investigated the impact of heat stress on the Phoenix Islands Protected Area (PIPA), and discovered that despite 75 percent of the coral reef being damaged by a heatwave in 2003, a later heatwave in 2010 was far less damaging. 
A 2015-2016 heatwave that was twice as strong as the 2003 example was almost half as damaging, with just 40 percent of coral cover loss.
"We're seeing areas that were devoid of corals after 2002-2003 that are now flourishing with most of the original species," said study lead author Michael Fox, a coral reef ecologist at...
Read More