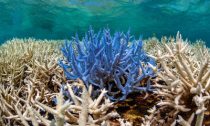 Marine biologist Ruth Gates sat down in an oversized wooden rocking chair at an oceanside resort here last week to talk about the next frontier in coral science and a new hope for saving coral reefs reeling from climate change: genetic technology.
"There are hundreds of species of coral, all with complex biologies and physiological traits that vary based on their DNA and environment," Gates, director of the Hawaii Institute of Marine Biology, said while seated on a sprawling lanai overlooking acres of coral reefs awash in turquoise waters.
"Using genetic technology to identify corals resilient to environmental stressors may allow us to save corals – which are some of the most threatened organisms on Earth," added Gates, a leading coral scientist who was featured in the new docume...
Read More