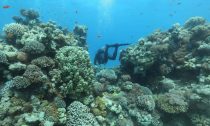 The battle to save the world's coral reefs is at "make or break point", and countries that host them have a special responsibility to take a leadership role by limiting greenhouse gas emissions, plastic pollution and impacts from agriculture, the head of the United Nations Environment Programme (Unep) has said.
Speaking to the Guardian after the launch of International Coral Reef Initiative's international year of the reef, Erik Solheim said he expected governments to take their efforts on reef protection in 2018 beyond symbolic designation.
"We expect governments to step up to concrete actions," Solheim said.
To kick off ​ that effort, Fiji's prime minister, Frank Bainimarama, has announced new protections ​for large portions of the Great Sea Reef, by nominating it a Ramsar site. The Ramsar Convention ​ gives protection to wetlands – including coral reefs – that are important for the conservation of global biodiversity and for sustaining human life.
Announcing the nomination, Bainimarama said it was shocking that this might be the last generation to witness the beauty of coral reefs.
"Today I appeal to every single person on Earth to help us. We must replace the present culture of abuse with a culture of care," he said.
Solheim ​said another significant ​ step was ​taken this year when Belize imposed a moratorium on oil exploration and extraction in its waters – a move the Belizean prime minister said was ​a first for a developing country​.
"We have seen a huge decline in the reefs and that is absolutely serious," Solheim said. "But there are also signs of change. We see now a huge global shfit from coal to solar and wind and that is very good news for our efforts to reduce the effects of climate change.
"And we have seen a huge shift in the awareness of the problem of plastic pollution," he said, noting there have been many moves around the world to ban various forms of plastic pollution.
Solheim said that while the decline of reefs was a global problem that needed coodinated action, host countries ​had a special responsibility.
"We expect Australia and the Pacific Islands and the Carribbean to protect their coral reefs – they can do so much," he said.
He called on Australia to do more to mitigate climate change.
"I strongly encourage Australia to transform its energy mix from coal to solar and wind and renewables – that is happening, but the faster it happens the better."
Solheim said failure to act now would bring about a major catastrophe.
"Beyond the complete moral failure of destroying the enormous beauty and all the different species in the ocean living in the reefs, it would also be an economic disaster," he said.
Estimates vary, but coral reefs around the world are thought to sustain the lives of about one billion people, ​ by supporting food sources, ​protecting coastlines or providing other economic support.
That is particularly ​true of developing countries, but reefs also support thousands of jobs in Australia, Solheim said.
"It would have a huge impact for Australia – the reduction of tourism, and an impact on the fishing industry. Tourism is the most rapidly growing business on the planet and a huge job provider. At a time when every nation is desperate for jobs, restoring reefs is fundamental to economic success everywhere."
Unep also announced it would​ be working in collaboration with WWF to "drive an urgent response to combat the decline of coral".