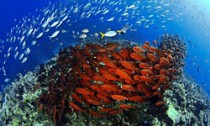 Coral reefs, mangroves and even some fish could soon have their own insurance policies as the industry seeks new ways to boost protection for those affected by the ocean changes wrought by climate change.
Warmer sea temperatures have led to more intense storms in the Atlantic Ocean, contributing to $320 billion in disaster losses from weather and climate-related events last year, according to the World Meteorological Organization.
Only about a quarter of these were insured.
But despite high payouts, industry experts speaking at the Ocean Risk Summit in reinsurance hub Bermuda said so-called "ocean risk" – which encompasses storms and hurricanes as well as marine diseases and declines in fish stocks – can present opportunities for insurers if the risks are modelled correctly.
One way to increase coverage is to devise new financial instruments to insure "green infrastructure" – such as coral reefs, mangroves and salt marshes that act as natural barriers against storms and can reduce devastating losses on land.
"There is a new role for insurance companies in the context of development strategies for countries most vulnerable to ocean risk," said Falk Niehörster, director of Climate Risk Innovations, a risk management consultancy.
Niehörster has urged the creation of new insurance products to cover the $1.5 trillion global "blue economy" including fisheries, marine transport and other sectors.
Mark Way, a former reinsurance official who helped Swiss Re implement a policy for dozens of kilometres of coral reef and beach in Mexico this year – a world first – said his charity was inundated with calls from other insurers after the concept was announced.
"There's a lot of capital looking for investment opportunities so there are incentives to find innovative new ways to provide cover," Way, head of global coastal risk and resilience for The Nature Conservancy, told the Thomson Reuters Foundation on the sidelines of the summit last week.
Governments also have a keen interest in such insurance policies since they can reduce the human and infrastructure losses on land that devastated parts of the Caribbean last year.
Kedrick Pickering, deputy premier of the British Virgin Islands, which was hit by Hurricane Irma last year, said reef insurance was something the country would consider.
The Mexican reef insurance model works by automatically triggering payouts once storm-force winds hit a certain level.
The same concept theoretically could be applied to damage to fish stocks causes by El Niño, based on changes to water current. Payouts would go to fishermen in that case.
"There is a whole host of ideas and we are just scraping the surface," Way said.