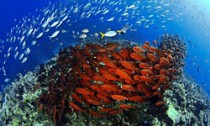 Coral reefs, mangroves and even some fish could soon have their own insurance policies as the industry seeks new ways to boost protection for those affected by the ocean changes wrought by climate change.
Warmer sea temperatures have led to more intense storms in the Atlantic Ocean, contributing to $320 billion in disaster losses from weather and climate-related events last year, according to the World Meteorological Organization.
Only about a quarter of these were insured.
But despite high payouts, industry experts speaking at the Ocean Risk Summit in reinsurance hub Bermuda said so-called "ocean risk" – which encompasses storms and hurricanes as well as marine diseases and declines in fish stocks – can present opportunities for insurers if the risks are modelled correctly.
One way to...
Read More