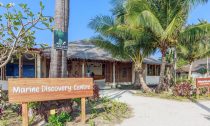 Amid mounting concern surrounding of environmental damage on Thai islands frequented by tourists, Singha Estate in May opened a Marine Discovery Centre at the Phi Phi Island Village Beach Resort to raise awareness about the importance of marine biodiversity and conservation.
The Marine Discovery Centre houses four zones – the Shark Room, the Phi Phi Islands Room, the Clownfish Room and the Auditorium – and offers visitors interactive displays with educational material about unique marine species endemic to the region.
The new environmental attraction will also be a base for the re-introduction of clownfish, as well as breeding bamboo sharks and replanting coral reefs.
The company is also collaborating with national park officials, local communities and the Faculty of Fisheries at Kasetsart University to rehabilitate the reef and protect marine life in Maya Bay, a recommended attraction for guests at the resort.
"Over the last few years Singha Estate has taken an active part in sustainable development projects to catalyse the prototype 'Phi Phi Set to Change' programme, aimed at recovering, restoring and managing the natural assets of the world renowned destination of Phi Phi Island," said Naris Cheyklin, CEO, Singha Estate.
The opening of the Marine Discovery Centre comes amid a stronger focus on conservation in Thailand. A new law banning harmful activities such as the feeding of marine life, walking on the seabed, and new seaside construction is set to kick in on the islands of Koh Samui, Koh Phangan and Koh Tao in July. Moreover, some beach and island destinations such as Maya Bay have recently been closed to allow for the rehabilitation of marine ecosystems.
Singha Estate also intends to reference the "Phi Phi Model" in its new mega project, Crossroads, in the Maldives. The multi-island development will feature a marine conservation centre; a coral laboratory to study, grow and reintroduce corals; as well as a coral reef nursery, covering a planned area of 62,000m2.