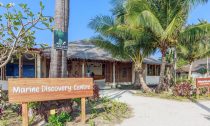 Amid mounting concern surrounding of environmental damage on Thai islands frequented by tourists, Singha Estate in May opened a Marine Discovery Centre at the Phi Phi Island Village Beach Resort to raise awareness about the importance of marine biodiversity and conservation.
The Marine Discovery Centre houses four zones – the Shark Room, the Phi Phi Islands Room, the Clownfish Room and the Auditorium – and offers visitors interactive displays with educational material about unique marine species endemic to the region.
The new environmental attraction will also be a base for the re-introduction of clownfish, as well as breeding bamboo sharks and replanting coral reefs.
The company is also collaborating with national park officials, local communities and the Faculty of Fisheries at Kaset...
Read More