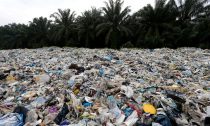 Thailand began the year with a ban on single-use plastic bags that Bangkok office worker Nicha Singhanoi hoped would cut back the waste that puts her country among the world's top five choking the oceans with plastic. Then the coronavirus pandemic forced school closures and authorities told people to stay home, and far from falling, Bangkok's plastic waste has soared 62% in volume in April, as more people opt for food and goods to be delivered to homes.
"There is so much bubble wrap and product packaging, or bags and containers from food deliveries," said Nicha, 27, an avid online shopper, who said that working from home deprived her of the time to cook.
Even if the pandemic eases, environmentalists fear Thailand is simply a pointer for the situation elsewhere in Southeast Asia, h...
Read More