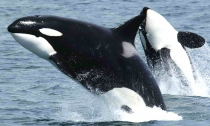 The Center for Whale Research (CWR) declared the whale, officially known as L92, "missing and presumed dead" on Friday. L92 had not been seen since November 2017 and was "conspicuously absent" from 2018 sightings. He was 23 years old.
With L92s death, the number of southern resident orca whales, who travel between waters in Washington State and southwestern British Columbia, fell to 75, the lowest it has been since 1984. Orca whales were listed as an endangered species under the U.S. Endangered Species Act in 2005.
Despite a baby boom, the southern orca population has fallen by eight since 2016, The Canadian Press reported.
Deaths are being blamed on a decline in Chinook salmon, the whale's main prey, as well as noise and boat traffic, The Seattle Times reported.
Conservationists are concerned that the increased shipping associated with the Trans Mountain pipeline could exacerbate these risks, since it will increase tanker traffic in the Salish Sea by 700 percent, according to the Raincoast Conservation Foundation.
"Even without oil spills the additional noise from Kinder Morgan tanker traffic increases the risk of extinction to already imperilled Southern Residents. Today's approval of the Kinder Morgan project sanctions the probable extinction of Southern Resident killer whales. We are now considering our options including additional legal action," Raincoast Executive Director Chris Genovali said in 2016, when the pipeline was first approved.
L92's death is a reminder of the urgency of the orca's situation, coming three months after Washington Governor Jay Inslee signed an executive order to protect orcas and Chinook salmon.
"The problems faced by orcas and salmon are human-caused, and we as Washingtonians have a duty to protect these species," Inslee said at the time. "The impacts of letting these two species disappear would be felt for generations."
He ordered state agencies to outline both immediate and long-term solutions to ensure both species' survival.
L92 was a member of L pod, the largest group of orca whales that spends time in Washington and BC waters. The smaller J and K pods complete the southern resident population.
On June 11, the CWR counted 50 whales in inland waters. The CWR said the whales were spending less and less time inland in the spring as Fraser River Chinook salmon runs decreased. 2018 looks to be an especially low year for Fraser River Chinook salmon, the CWR reported.