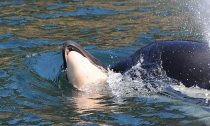 A killer whale has stopped carrying her dead newborn calf after at least 17 days, during which she covered 1,000 miles (1,600km), scientists say. The whale "vigorously chased a school of salmon with her pod-mates in Haro Strait" off Canada's Vancouver Island, the Center for Whale Research said.
"Her tour of grief is now over and her behaviour is remarkably frisky."
Killer whales have been known to carry dead calves for a week, but scientists believe this mother "sets a record".
The mother whale – known as J35 – has captivated the world's attention in the past few days.
"Telephoto digital images taken from shore show that this mother whale appears to be in good physical condition," CWR said in a statement on Saturday.
"The carcass has probably sunk to the bottom of these inland marine waters of the Salish Sea [between Canada and the US], and researchers may not get a chance to examine it for necropsy (autopsy of an animal)."
The mother whale was first spotted carrying her dead calf on 24 July, off the shore of Vancouver Island.
The calf is believed to have died the same day. The cause of death is unknown.
Both Canada and the US list the Southern Resident killer whale as endangered. The whales depend on Chinook salmon – which have been in dramatic decline in recent years – for food.