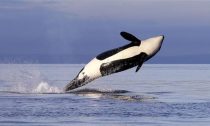 "I believe we have orcas in our soul in this state." Those were the words of Washington Gov. Jay Inslee earlier this year after forming the Southern Resident Orca Task Force, an initiative meant to keep endangered killer whales alive in the region.
Contributing to their extinction there, per the New York Times, is the fact that they're starving to death as their main food source, Chinook salmon, disappears.
KOMO reports that, per the latest census numbers, there are just 75 killer whales in the Pacific Northwest—a 30-year low. The orca population is also slowly decreasing in number there due to other factors, including fewer births (not a single calf has been born in the area in three years), a weakened gene pool that's partly due to companies like Sea World taking dozens of orcas out of circulation, and possibly even as part of an overall "marine ecosystem in collapse," per the Times.
Pollution is also an issue—including pesticides found in the salmon the orcas devour at a rate of 30 or so a day, when they can get them—and a new pipeline project starting in August could further expose them to more threats, such as oil spills and tanker noise.
Both the toxins and the commotion can further cripple the orcas' immune systems. There are even worries that the already weakened whales may succumb to a cross-species disease that finds its way to their pods.
"I've had dreams about it at night," one worried vet says. One ongoing effort to help the whales thrive again is raising more Chinook salmon (also known as king salmon) in nearby hatcheries, but some aren't sure that's enough—and losing the whales would be devastating.
"They are such a part of our identity here," one biologist says. "It would be a real sense of failure." (A grim first among orcas.)
This article originally appeared on Newser: 'Soul' of the Pacific NW Is Dying of Starvation