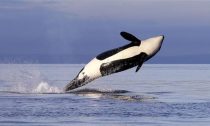 "I believe we have orcas in our soul in this state." Those were the words of Washington Gov. Jay Inslee earlier this year after forming the Southern Resident Orca Task Force, an initiative meant to keep endangered killer whales alive in the region.
Contributing to their extinction there, per the New York Times, is the fact that they're starving to death as their main food source, Chinook salmon, disappears.
KOMO reports that, per the latest census numbers, there are just 75 killer whales in the Pacific Northwest—a 30-year low...
Read More