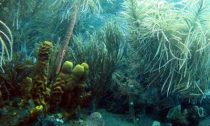 This World Water Week, we spoke with 19-year-old Ben May, Founder and President at ThinkOcean and a student at the University of Pennsylvania. He is also the recipient of the prestigious Global Environmental Education Partnership EE 30 under 30 award.
My fondest childhood memories are by the sea. There is nothing like diving and discovering the beautiful, mysterious underwater world, feeling the breeze from the ocean air or hearing the crashing of the waves. We take the ocean for granted and often forget that 71% of the Earth's surface is covered by water.
Ocean and land are tightly interconnected. Everything that we do on land has a direct, global, and cascading impact on the ocean. What happens in the oceans affects the entire planet.
Marine ecosystems are at their most vulnerable. Environmentalists tend to protect the environment for the sake of conserving it. I am an environmentalist and an activist because I know that if ecosystems do collapse, the earth will no longer be inhabitable. Humanity will have led itself to extinction.
But we won't let that happen. Positivity and the power of the individual is what drives my work. I am always surprised by the huge power wielded when individuals act, speak out, and come together.
In line with this year's World Water Week theme "Water, ecosystems and human development", we can do three things to develop a sustainable relationship with the ocean: involve youth, provide young people with mentoring and support for their own projects, and fight apathy.
Involve youth
Despite being the largest demographic in the world, and the most at risk, youth commonly have the smallest voice when it comes to engagement. Yet young people need to actively start driving change because the world we will all inherit is shaped by the actions and decisions of today.
I have decided to do something about it.
I founded ThinkOcean to provide a platform and community for like-minded, passionate people who are doing amazing work to lead their own projects, creating widespread change in their communities. In just its first year, it has spread environmental awareness, promoted sustainable practices, and played a hand in comprehensive governmental action. I also help organize Sea Youth Rise Up, bringing together young leaders from around the globe to speak with world leaders and bring young voices to the decision-making table.
In 2016, Sea Youth Rise Up leaders met with the Council on Environmental Quality in the White House, to stop oil drilling off the coast of Cape Cod. The unscathed area was about to be subjected to oil exploration and exploitation by fisheries. Instead, the government agreed to create the first US Marine Protected Area in the Atlantic Ocean.
Support youth-driven initiatives
We must invest more time and money in promoting actions by youth. At the Youth Ocean Conservation Summit, we bring together students, scientists, and conservationists to support young people to launch their own conservation initiatives. Investment in such programmes can help us channel our passion in proactive ways and build the momentum that will help us address the challenges of tomorrow.
Wake up!
Finally, we must beat apathy. We must stop supporting practices which create a bleak future for my generation. As consumers, we are responsible for the life or death of each business and industry. We must become proactive in choosing the way we want our environment to be treated – vote with our dollars.
Most people think their individual action is small or insignificant. Yet, studies show that if 10 per cent of any population holds a belief, it will spread like wildfire. It only takes the enthusiasm of a small group to turn the tide.
We are young, but we are powerful. When properly channeled, our voices are strong enough to make ripples from the local to the international level, combining the willpower and enthusiasm of a growing network of young leaders to speak up for our shared future. It's time to use this collective power to influence the decisions of today.