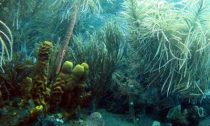 This World Water Week, we spoke with 19-year-old Ben May, Founder and President at ThinkOcean and a student at the University of Pennsylvania. He is also the recipient of the prestigious Global Environmental Education Partnership EE 30 under 30 award.
My fondest childhood memories are by the sea. There is nothing like diving and discovering the beautiful, mysterious underwater world, feeling the breeze from the ocean air or hearing the crashing of the waves. We take the ocean for granted and often forget that 71% of the Earth's surface is covered by water.
Ocean and land are tightly interconnected. Everything that we do on land has a direct, global, and cascading impact on the ocean. What happens in the oceans affects the entire planet.
Marine ecosystems are at their most vulnerable...
Read More