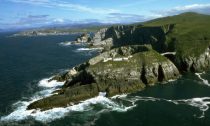 A Spanish-registered fishing vessel detained by the Naval Service off the southwest coast has been found to have more than a tonne of shark fins on board. Up to 5,000 sharks are estimated to have been caught and stored on the vessel before it was boarded last week by an inspection team from the LÉ William Butler Yeats, 150 nautical miles south of Mizen Head.
Shark can be caught legally, but removing fins at sea has been illegal since 2013 under EU regulations.
Shark fins can fetch a high price in Asia, where they are used in sharkfin soup. The fins are often removed while the shark is still alive and it can then no longer swim effectively and either suffocates or is eaten by other predators.
The vessel, Virxen da Blanca, was escorted into Castletownbere, Co Cork, where it was handed over to the Garda Síochána, who were assisted by the Sea Fisheries Protection Authority.
A special sitting of Clonakilty District Court last Saturday heard the vessel had 164,250kg of blue shark, 98kg of mako shark and 1,250kg of shark fins on board.
Release bond
The master of the fishing vessel was charged and a release bond of €335,000 placed upon the vessel.
The owners of the vessel have been reported in the Spanish press as contending that the Irish authorities had misinterpreted the EU rules, and that the only part of the sharks removed was the "anal fin" which is severed when gutting the marine species.
The vessel is one of a fleet using longlines to catch shark off the southwest coast, and the Irish Wildlife Trust has called on two Government Ministers to strengthen protections for sharks and other threatened marine species in Irish waters.
SFPA chair Dr Susan Steele said the detention was very significant and she has been in contact with the Spanish fisheries authorities on the matter.
"We have zero tolerance for vessels removing fins from sharks in our waters," Dr Steele said.
She confirmed that SFPA staff would be conducting further inspections of the vessel on Tuesday and would be undertaking DNA analysis of samples of over a tonne of fins found on board.