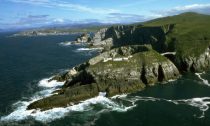 A Spanish-registered fishing vessel detained by the Naval Service off the southwest coast has been found to have more than a tonne of shark fins on board. Up to 5,000 sharks are estimated to have been caught and stored on the vessel before it was boarded last week by an inspection team from the LÉ William Butler Yeats, 150 nautical miles south of Mizen Head.
Shark can be caught legally, but removing fins at sea has been illegal since 2013 under EU regulations.
Shark fins can fetch a high price in Asia, where they are used in sharkfin soup. The fins are often removed while the shark is still alive and it can then no longer swim effectively and either suffocates or is eaten by other predators.
The vessel, Virxen da Blanca, was escorted into Castletownbere, Co Cork, where it was handed ov...
Read More