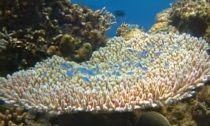 An environmental group is planning on using electricity to restore the Great Barrier Reef in Australia, which is known to be affected by climate change. The electricity is expected to speed up coral growth, preventing the coral bleaching caused by warming ocean temperatures.
The group is called Reef Ecologic, and it wants to start a trial to see how the technique works on the Great Barrier Reef's coral, reports New Scientist. The group plans to use steel frames to contain the electricity and simulate coral growth. The process of "regrowing" coral is incredibly slow and could take decades to restore naturally, so the new approach using electricity speeds up the process.
This is not a new idea. Projects like this have already been conducted in the Caribbean, Indian Ocean and Southeast Asia, so environmentalists now plan to use the same technique to restore the Great Barrier Reef.
"A low-voltage direct current is run through the steel," BBC Future reported in 2015. "This electricity interacts with the minerals in the seawater and causes solid limestone to grow on the structure. It draws on the principles of electrolysis, where the electric current causes a chemical reaction to occur which wouldn't have otherwise."
The new project is now moving toward the section of the GBR located 60 miles north of Cairns. As New Scientist noted, the targeted region was "badly affected by the 2016 and 2017 mass coral bleaching events."
According to a study published in 2016, 93% of  the Great Barrier Reef suffered coral bleaching after those events. Since climate change speeds up with each passing year, these massive coral bleaching events could repeat at least every five years.
Rising ocean temperatures are the main culprit behind coral bleaching. It means the corals turn white as a result of algae tissues being expelled on the coral. While this process doesn't kill coral, it weakens it and makes it more vulnerable. The U.S. lost half of the coral reefs in the Caribbean due to a massive coral bleaching event that took place in 2005, so hopefully this new approach will help restore the Great Barrier Reef.
The electricity currents that will be used in the biorack technology to restore the Great Barrier Reef are harmless to humans and the marine animals that populate the reef. However, even though this technique works, it's challenging to achieve because many low-voltage cables need to be run from the shore to the reefs, and that's not easy to do despite the rapid development of solar and tidal energy.
Nevertheless, scientists will continue doing what they can to prove this technique effective. Furthermore, with the risks from climate change and global warming rising, it won't hurt to try out new things that will prove necessary for preserving our planet and all life on it.