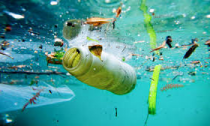 Scientists are working on a technique to track plastic debris in the ocean from space. It's extremely challenging, especially since the individual pieces of litter are smaller than the minimum-sized objects that satellites can resolve.
But the approach works by looking for plastic's reflected light signature in the water.
And early trials conducted by the UK's Plymouth Marine Laboratory have been very encouraging.
"You're never going to see an individual plastic bottle floating on the sea, but we can detect aggregations of this material," Dr Lauren Biermann told BBC News.