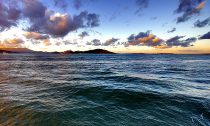 2019 may go down in history as Year Zero of the climate apocalypse. The tsunami of extreme events has been so relentless that each is quickly forgotten in favour of its successor. So before the year ends we should pause, remember just how extraordinary it was, and reflect on what this might mean for our future. The year started with a record-breaking heatwave in southern Australia with temperatures in the mid-40s, in some areas for 40 days in a row. Then followed the immolation of vast areas of moist Tasmanian forests, forests that date back to the last ice age.
Approximately 3% of the state burned as a long-term trend of less rainfall and more evaporation was capped off by the driest January on record. On the mainland, who could forget those horrifying images of the Menindee fish kills?
To our north, Pabuk, the earliest forming tropical storm in the north-west Pacific Ocean on record, smashed into the coastal resorts of Thailand, killing 10 people and causing almost US$160m in damage.
While Australia was sweltering, North America was freezing thanks to a disruption of the polar vortex that might, perversely, be linked to the warming of Arctic waters.
February brought little climatic relief with Townsville hit by devastating floods and Sydney lashed by storms.
March saw fires continue to rage in Victoria, with over 30 homes lost. Meanwhile, Cyclone Idai, one of a record number of Indian Ocean cyclones, swept through south-eastern Africa, killing thousands in what some called the worst weather-related disaster ever to strike the southern hemisphere. Australia was not immune from cyclones, with Trevor and Veronica wreaking billions of dollars' worth of damage.
Flooding in Iran claimed at least 70 lives in early April, while cyclones returned to south-eastern Africa, causing another 50 deaths.
In late April-early May Cyclone Fani lashed Sri Lanka, India, Bangladesh and Bhutan, causing 89 deaths, capping off a season of very atypical cyclones likely triggered by uncommonly warm seas.
In Hawaii, the Mauna Loa observatory recorded its highest-ever reading of carbon dioxide at 414.8 parts per million, confirming the relentless upward trend. The Guardian adopted a new editorial policy to prefer the term "climate crisis". Inspired by a determined teenager from Sweden, hundreds of thousands of students from thousands of towns in hundreds of countries protested for the future of their planet.