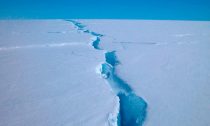 The World Meteorological Organisation says there's a growing chance that global temperatures will break the 1.5C threshold over the next five years, compared to pre-industrial levels. It says there's a 20% possibility the critical mark will be broken in any one year before 2024. But the assessment says there's a 70% chance it will be broken in one or more months in those five years.
Scientists say that keeping below 1.5C will avoid the worst climate impacts.
The target was agreed by world leaders in the 2015 Paris climate accord accord.
They committed to pursue efforts to try to keep the world from warming by more than 1.5C this century.
This...
Read More