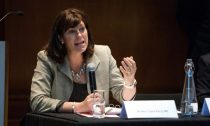 The prime minister admitted he "doesn't really get" climate change, the former head of this year's key summit on the issue has said. The UK is hosting COP26 in Glasgow in November – but Boris Johnson sacked president Claire O'Neill on Friday. Mrs O'Neill told the BBC there was a "huge lack of leadership and engagement" from the government.
Senior cabinet minister Michael Gove rejected claims that the government was failing to lead on climate change.
Mr Gove told Sky News the Glasgow conference had been the first item on the agenda when the cabinet met in the new year and he said the UK was setting an example on reducing carbon emissions.
But Ms O'Neill, the former Conservative minister for energy and clean growth, said people should be wary of the prime minister's promises.
"My advice ...
Read More