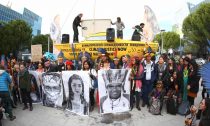 What happened in week one?
The COP25 climate talks in Madrid may have officially opened on Monday 2 December, but they only really started on Friday evening. That was when Greta Thunberg arrived to join a 500,000-strong march through the centre of Madrid, demanding that world leaders listen.
The young activist said that she, and the millions who have marched and protested around the world in the last two years, had "achieved nothing" because greenhouse gas emissions have continued to rise...
Read More