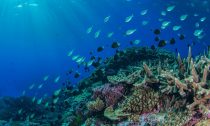 The overall health of coral reefs in Malaysia is considered to be "fair", but has been slowly declining in the last five years, according to a report by Reef Check Malaysia. According to the 2019 annual survey report where a total of 180 sites across Malaysia were surveyed last year, average live coral cover was 40.63%.
In 2014, the average live coral cover was 48.11%, while in 2015, it dropped to 45.95% before declining in the following years.
Of the 180 sites surveyed last year, 97 were in peninsular Malaysia while the remaining 83 were in east Malaysia.
The surveys were conducted with the help of volunteers and dive centres around the country.
Reef Check Malaysia, a marine conservation organisation, has been monitoring coral reef health in Malaysia since 2007, and this is the thirteenth annual survey report it has released.
The report said that low numbers of high-value fish and shellfish species were also recorded, as well as an increase in the amount of algae in some coral reef areas.
"Coral reefs are an important biological and economic resource in Malaysia, providing food and jobs for thousands of people. Reefs must be conserved for the benefit of future generations. An analysis of 13 years of monitoring data highlights some potentially worrying trends, " said the report.
It added that management authorities and other government agencies are urged to take action now to protect Malaysia's remaining reefs, safeguarding the huge economic benefits they provide.
General manager of Reef Check Malaysia, Julian Hyde said there are some very simple, low-cost measures that can be taken to improve the situation.
He said there was a need to make sure waste is well managed, supervising diving and snorkelling operations to reduce physical impacts to reefs, managing fishing, and improving sewage treatment to reduce pollution.
"More importantly, we are building the resilience of coral reefs, so they are more likely to survive climate-related impacts in the future. So, it's not the end of the world – but we do have to take action now. We are living in an era when there is increasing concern about biodiversity conservation. We can all help to conserve Malaysia's marine biodiversity, " he said in a press release.
Reef Check Malaysia programme manager and co-author of the report, Lau Chai Ming, said that coral reefs are a source of both food and jobs for coastal communities.
"Islands like Tioman and Perhentian rely on reefs for tourism, which is the mainstay of the economy. Not only that, but they are important biologically, providing a habitat and breeding ground for a third of marine species. Put simply – no reefs, no fish. On a broader scale, they can connect ecosystems over large areas, " she said.