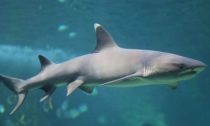 The National Marine Fisheries Service was asked in a lawsuit filed in Hawaii to protect Pacific oceanic white-tip sharks, which are listed as threatened under the federal Endangered Species Act. The environmental law firm Earthjustice filed the lawsuit on behalf of several conservation groups, including the Conservation Council for Hawaii and Michael Nakachi, a Native Hawaiian cultural practitioner and owner of a local scuba diving company, the Garden Island reported.
"No protections exist to prevent fisheries from capturing oceanic white-tip sharks as bycatch," said Moana Bjur, executive director of the Conservation Council for Hawaii. "That needs to change if we are to prevent this incredible apex predator from going extinct. That's why we're going to court."
The lawsuit alleges that the marine agency failed to declare that Pacific oceanic white-tip sharks are overfished, despite data showing thousands are killed each year.
The lawsuit claims the declaration would trigger further protective action by the Western Pacific Regional Fishery Management Council.