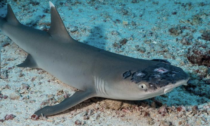 Marine biologists are investigating a mystery skin disease afflicting whitetip reef sharks in Malaysia, with some early reports suggesting rising sea temperatures could be to blame. Named for the distinctive white tips on their fins, whitetip reef sharks are typically found resting in schools around reefs in the day and are a popular attraction for divers. They become active at night to hunt for small fish and other animals.
Pictures of one of the sharks with what appeared to be spots and lesions on its head went viral on social media in April after being taken by an underwater photographer off Sabah state on Borneo island.
Soon after, divers at Sipadan island, a famed diving destination nearby, and a team of experts from the state's university and government and conservation groups...
Read More