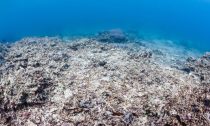 Israel's Ministry of Environmental Protection reported Sunday that heavy damage was caused to the coral reef in the Red Sea, off the coast of the southern resort city of Eilat. This is one of the northernmost coral reefs in the world, and the only one in Israel.
National monitoring carried out by the ministry, through The Interuniversity Institute for Marine Sciences in Eilat, found that the percentage of coral living on the reef has dropped dramatically.
This is a result of an unusual storm that occurred in March 2020, causing massive damage to the infrastructure and beaches in Eilat, as well as the coral reef located in Eilat's Coral Beach Nature Reserve.
The monitoring found that at a depth of five meters in the reserve, area covered with living corals was about 25 percent lower compared to the spring of 2019.
A more dramatic impact was measured 10-meter deep, where a 75 percent decrease of the living coral-covered area was recorded, compared to summer 2019.
Most of the damage was caused by waves, sand and alluvium, as well as by objects and infrastructure blown away from the beach, such as signs, timber beams and piers.
The ministry estimated that it will take a long period of time for the reef to recover, as it is a living structure, developing in many years in very slow processes.
Algae that bloomed in the reef, following flow of fertilizers and organic matter into the sea, are also expected to slow the reef rehabilitation.