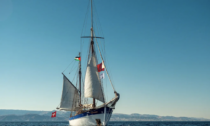 At the 'last coral refuge in the world,' an European-Arab-Israeli research team aims to discover why Gulf of Eilat reefs have survived rising temperatures better than others.
A research expedition of European, Arab and Israeli scientists will sail from Eilat on Tuesday to study the characteristics of the local coral reefs that have allowed it to survive the rise in sea water temperatures. The expedition follows several studies that have found the coral reefs in the Gulf of Eilat seem to show an unusual degree of tolerance to global warming at a time when other reefs around the world are facing extinction.
The goal of the research is to understand the mechanisms the corals use to withstand bleaching...
Read More