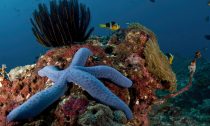 Climate change is killing the ocean. The ocean has absorbed 90 percent of Earth's heat over the last 50 years. Warmer waters are causing fish and other species to flee for cooler areas and fundamental and sudden shifts in the ocean ecosystem. The ocean also has absorbed more than a quarter of the carbon dioxide produced by fossil fuels, causing a 30 percent increase in ocean acidity since the Industrial Revolution and making it harder for oysters, scallops, and other shellfish to grow their protective shells.
Climate change has harmed our ocean, but our ocean can still help turn the tide.
Today's report from the House Select Committee on the Climate Crisis highlights the need to protect and restore U.S. land, inland waters, and ocean areas in order to prevent the worst impacts of climate change.
It calls for Congress to establish a national goal of protecting at least 30 percent of all U.S. lands and ocean areas by 2030 and notes The Thirty by Thirty Resolutions to Save Nature (S.Res.372 and H.Res.835), which also set this goal. The report urges the Department of the Interior to work collaboratively with tribes, state governments, landowners, and local communities to identify and protect priority conservation targets. Achieving these natural protections would not only help ensure a healthier climate, but also would help address the biodiversity crisis our world is barreling towards.
Because it's not just a climate crisis we're facing. Nature, like climate, is at a tipping point. Millions of species worldwide are at risk of extinction because of human activity—many within our lifetime. Years of chronic overfishing, pollution, and habitat destruction have strip-mined the ocean. More than one-third of marine mammals and nearly one-third of sharks, shark relatives, and reef-forming corals are threatened with extinction.
Leading scientists have called for protection of at least 30 percent of the planet's natural lands and waters, and 30 percent of its ocean area by 2030 to address these twin challenges of climate and biodiversity loss. This approach, "30×30," would bring tremendous benefits – and not just in terms of conserving the places and animals we love. Strong protections for the ocean also pay off economically—to the tune of hundreds of billions of dollars. Not to mention that our ocean provides us with every other breath we take, helps regulate our climate, supplies protein for billions of people, and offers new sources of medicines to science. In fact, one of the medicines being used to treat COVID-19 patients was discovered deep beneath the waves.
The U.S. should protect at least 30 percent of our ocean area by 2030 to help advance this global goal, and to help all of us who rely on the ocean for food, jobs, and recreation here at home. Today's report notes that we can help by:
Conserving a range of coastal wetlands, seagrass beds, and mangrove forests to protect nearby homes and businesses from sea level rise and storms, establish safe havens for wildlife and nursery areas for fish populations, and maintain these habitats as vital storage units for capturing and holding carbon dioxide.
Protecting special ocean area, such as those critical for wildlife feeding, breeding, and migrating. Prohibiting extractive uses in these areas will allow at-risk sea life to recover, and give these marine areas a leg up in the fight against climate change. A network of marine protected areas would allow animals a series of safe stepping stones as populations shift to escape warming waters.
We need to boost ocean protections here in the U.S.
Currently, about 23 percent of America's ocean is highly protected through marine protected areas, which are like parks in the ocean where at-risk sea life can recover from the pressures of climate change without further stress from industrial ocean uses like drilling, mining, and commercial fishing. California's marine protected area network, completed in 2012, offers a glimpse of what this looks like: in just five years, species increased in abundance up and down the coast. In fact, the quantity of key fish species in the Northern Channel Islands reserves increased by 52 percent in a five year period. We need to build from successes like this.
One challenge is that 99 percent of U.S. ocean area that is strongly protected is in the Western Pacific. That leaves us with a ways to go to ensure the unique wildlife found in the country's other marine regions receive protections.
The House Select Committee on the Climate Crisis's report and The Thirty by Thirty Resolutions to Save Nature set a target, like we've done for clean energy goals, as a crucial step to getting the country committed to action for our planet's health. They deserve our support.
Contact your Senators and Representatives to encourage them to co-sponsor The Thirty by Thirty Resolutions to Save Nature, or to thank them for standing up for nature. Together, we can build a healthier ocean future.