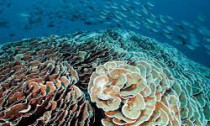 It's not too late to rescue global marine life, according to a study outlining the steps needed for marine ecosystems to recover from damage by 2050. University of Queensland scientist Professor Catherine Lovelock said the study found many components of marine ecosystems could be rebuilt if we try harder to address the causes of their decline.
"People depend on the oceans and coastal ecosystems as a source of food, livelihoods, carbon capture and, thanks to coral reefs, mangroves and other coastal ecosystems, for protection from storms," Professor Lovelock said.
"But people are having enormous impacts globally and it's time to do what we must to ensure our oceans are healthy and vibrant for generations to come."
The research revealed many examples of recovery of marine populations, habita...
Read More